Adobe premiered Project Primrose, an animated, shapeshifting, and interactive dress that can change its design and style almost every second at the Adobe MAX 2023: Sneaks presentation in Los Angeles on October 10th. Christine Dierk led the unveiling where she shocked the audience as at a click of a button her interactive dress covered in scales began to shift its patterns almost continuously and at her command. Later on, as seen in the video, she tells the viewers that they can also just leave the created designs animated and that the outfit can even detect the movement of the wearer, making the design sway and slosh in the direction the wearer goes.
Project Primrose's premise is to make a wearable, adaptable, and flexible dress made with non-emissive textiles where content creators and designers can flash their designs and creations onto the interactive dress as if it were their canvas. Adobe and Christine Dierk confirm that Project Primrose allows its users to display content created with Adobe Firefly, Adobe After Effects, Adobe Stock, and Adobe Illustrator onto the entire surface of the scaly dress so that they can quickly bring their beloved designs to life with the click of a button and using animation. The project hints at the possibility of adopting the technology in other creative fields such as the furniture industry.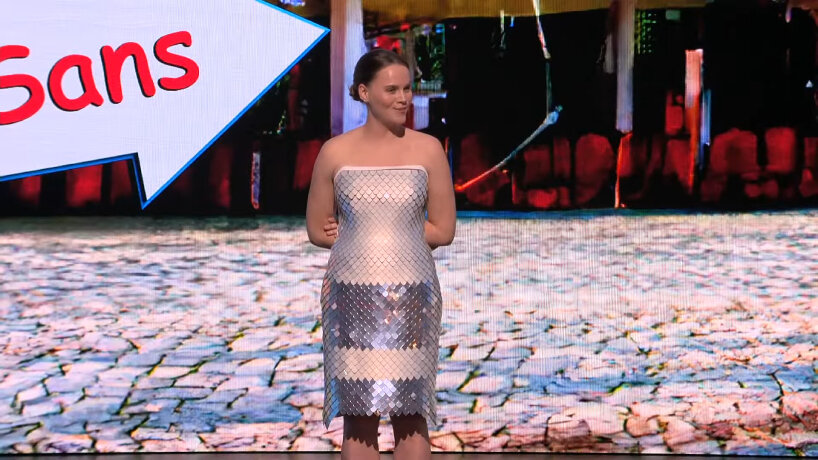 video stills by Adobe Creative Cloud via Youtube
NON-EMISSIVE MATERIAL WITH REFLECTIVE LIGHT-DIFFUSER MODULES
Adobe's Project Primrose may soon enable designers to layer this technology into clothing, furniture, and other surfaces so they can play with almost infinite style possibilities, including the ability to download and wear the latest design from a favorite designer. In fact, before Christine Dierk presented the interactive dress at Adobe MAX 2023, she and her research team comprising TJ Rhodes and Gavin Miller already published their studies back in 2022 with reflective light-diffuser modules for non-emissive flexible display systems. 
In the published video, Adobe's Project Primrose is highly responsive to the way external factors can trigger its movement. It can be a canvas for new designs or even a low-power billboard that can flash text-based advertisements. It is also a non-emissive material that can be cut to any shape and dynamically diffuses light. Before turning it into an interactive dress, the researchers already introduced the possibility of employing the technology for fabrics such as a handbag. With the arrival of the dress, more potential uses of Adobe's Project Primrose that can influence the creative industries may be in the pipeline.